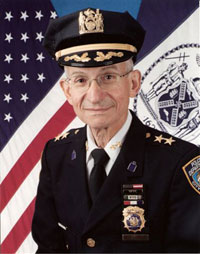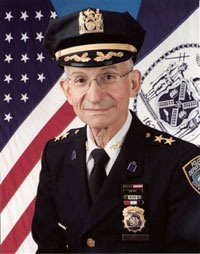 Rabbi Alvin Kass
Chief Chaplain of the NYPD
A Blessed Partnership-October 2016
Some of you may remember that moving scene in the Broadway production, Fiddler on the Roof, in which Tevye the Diaryman is about to be driven from his native village in Anatevka, and he turns to God with a sigh: "So this is what it means to be chosen. Next time, Creator of the Universe, do me a favor and choose somebody else." Jews in the audience usually laugh at that line because it rings so true. Wandering has been the lot of the Jewish people for 2,000 years until the establishment of the modern State of Israel. But thankfully so many Jews found their way to the United States of America. In 1790, the Jews of Newport, Rhode Island where the first synagogue was established in this country, wrote to George Washington to thank him for the benevolence and kindnesses they enjoyed from most of their neighbors. Washington wrote back that this was not an act of mere tolerance as if Jews were permitted to enjoy equal rights because of the indulgence of others; but rather because this was a special country which "gives to bigotry no sanction, to persecution no assistance", and where all people could become citizens and enjoy their inherent natural rights to freedom of religion. That is a beautiful sentiment enshrined in the Constitution, but as we know from contemporary events, the defense of freedom is an ongoing challenge. Words are just words unless there are people willing to fight to make them a reality. In the vanguard of the defenders of our freedom here at home are the men and women of the NYC Police Department. The leaders of the Jewish community know that the observance of the holiest days of the Jewish year without impediment and interference depends on the assistance, cooperation, and protection of the NYPD. Our department also knows that it could not have more loyal and stalwart partners to make New York safe and secure for all people than our Jewish community.
One of my favorite dreams about American history is that at the celebration of American independence in Philadelphia in 1776, there was a massive outdoor party with food and drink at which there was a kosher table do that Jewish citizens would feel fully recognized as members of the new nation. Whether there was or not, I know that in 2016, thanks to the joint efforts of the NYPD and the city's Jewish leaders, it is inconceivable that an important civic occasion would be commemorated without a kosher table.
At this season of the year, Jews are filled with anxiety. We inevitably stand at the intersection of the emotions and fear and hope, painfully aware of all the bad things that could happen to us, our families, and to our world, and at the same time clinging to our dreams of what a blessed future might hold. We read the headlines about terrorism, war , and killing, but as we open a new calendar we once again hope that this will be the year when the human race finally gets it right and learns to live as God intended us to live.
For that to happen, certain things must change. Human beings must come to recognize that some behaviors are wrong and absolutely prohibited. Hurting people is wrong; and those who endorse, indeed, celebrate, the murder of innocent people are practitioners of a false ideology. Your sense of grievance against the world for the way your life turned out doesn't give you the license to strike out in blind rage against society whether you are an inner city teenager, a man who just been fired from the factory job or you belong to a group whose ethnic or national aspirations haven't been realized.
An easy and meaningful fast to all and a happy and joyful Succos.