Support Israel through Magen David Adom (MDA)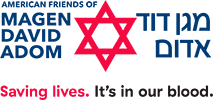 Dear Friends,
The recent events in Israel have left us heartbroken as we witness our Brothers and Sisters enduring unimaginable pain. As New Yorkers and members of the NYPD Shomrim Society, we understand the toll that war and terror can take. We also recognize the vital role of rapid emergency medical care.
With over two thousand people injured in recent attacks, including brave First Responders, we implore you to support our partnership with Magen David Adom. Their volunteers provide immediate emergency medical care in Israel, often arriving within minutes during crises. Your support can make a real difference in saving lives during this challenging time.
Thank you for standing with us and Magen David Adom. Please consider sharing this campaign to amplify our impact.
Welcome to the
New York City Police Department
Shomrim Society Website!
The NYPD Shomrim Society is a fraternal organization of Jewish members of the New York City Police Department.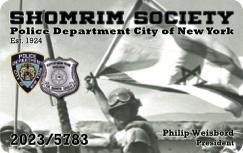 The NYPD Shomrim Society, Inc. is the official organization of Jewish members of the NYPD. We are not affiliated with other Shomrim Patrol or groups using the SHOMRIM name. We are proud to be a member of the National Conference of Shomrim Societies, comprised of Jewish Public Safety Workers nationwide.
The NYPD Shomrim Society was founded in 1924 and is a non-profit organization that provides support and camaraderie for Jewish members of the NYPD. We offer a variety of programs and services, including scholarships, charitable events, and cemetery grounds. We are committed to serving our community and making a difference in the lives of our members.
We are grateful for the support of our members and the community. We look forward to continuing to serve our members and making a difference in the lives of others.
---
Please remember Shomrim in your year-end (and year-round) charitable contributions.
The NYPD Shomrim Society Heroes Fund is a 501(c)(3) non-profit, EIN 87-3053217, that supports all society endeavors, including scholarships, charitable events, cemetery grounds, and general welfare. Donations are tax-deductible up to 50% of your income. Your contribution can be made online or by mail.
Click here to make a donation.
---
Dear Shomrim member or friend,
The proper time for lighting the candles in the New York area go to click here.
The traditional way to light candles on Friday night is: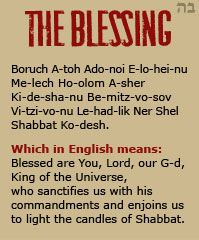 Light the candles.
Read the blessing from the paper (without looking at the candles).
Close your eyes and say a silent prayer for whatever is important to you.
Open your eyes, see the flame, and know you have added light to our world.
Wish everyone a present, a good shabbos, or a Shabbat shalom
(a sabbath filled with peace).
Kiss your loved ones and remind them how much you love them.
Please save this for future weeks.
May the light of our collective candles brighten the world and warm our hearts.
May the one who watches over all protect our loved ones and us and grant us peace, health, and happiness.
NYPD Shomrim Society
Board of Directors
SHOMRIM PRAYER
for SOLDIERS and POLICE OFFICERS
of ISRAEL and the UNITED STATES
He who blessed our forefathers Abraham, Isaac and Jacob – may He bless the soldiers of the Israel Defense Force, who stand guard over our land and the holy cities that are Yours from the border of Lebanon to the desert of Egypt, and from the Great Sea to the approach of the Arovah, on the land, in the air and on the sea. May He bless and protect the soldiers of the United States of America and our Allies, who risk their lives to protect and defend not only our borders but our right to Freedom and Democracy, here on our land and wherever we are threatened. May He bless and protect the Police Officers of New York City and all Law Enforcement Officers and Agents of this great Nation, who at the risk of their own lives protect the citizens of our city and this country from those who wish us harm. May He preserve and rescue all these courageous 'Shomrim' from every trouble, distress, plague and illness, and may He send blessing and success in their every endeavor. May He grant them salvation and crown them with victory. And may there be fulfilled for them the verse:
"For it is Hashem, your God, who goes with you to battle your enemies for you, to save you".
Now let us respond: Amen