IMPORTANT INFORMATION TO OUR MEMBERSHIP!
School Bus Drivers,Teachers, Police Officers, Firefighters, anyone who plans on collecting a New York State pension…you should be worried. Retired Teachers, Police Officers, Firefighters, you too should be concerned. Andrew Cuomo wants to hold a constitutional convention and change not only your pensions but your health care and bargaining rights. If the constitutional convention gets ballot approval in a November all bets are off. You will lose and those you care about will lose.
The ballot itself has been rigged. When you go to vote you won't even see the proposal, as it is on the BACK of the ballot. Unless you remember to turn the ballot over YOU HAVE NO CHANCE.
If you plan on being out of state in November, due to vacation or other circumstances, you need to get an absentee ballot. Keep or establish New York State residency, if only for voting purposes.
THIS IS VERY IMPORTANT. PLEASE VOTE NO…
DO NOT LET GOV. CUOMO OPEN THE CONSTITUTION. LOOK ON THE BACK OF THE BALLOT AND PLEASE VOTE NO!
Please pass this information on to family and friends.
The NYPD Shomrim Society Inc is the official organization of Jewish members of the NYPD. We are not affiliated to any other Shomrim Patrol or groups that use the SHOMRIM name. We are a member of the National Conference of Shomrim Societies which is comprised of Jewish Public Safety Workers throughout the country.
Please remember Shomrim in your year-end (and year-round) charitable contributions.
Donations to "Shomrim Society Inc.", a tax-exempt, non-profit cemetery company organized under IRS Section 501 (c) (13) are tax deductible up to 30% of your adjusted gross income. The donation must be dedicated to the cemetery as a whole, and the donor cannot receive anything in return. The cemetery fund needs assistance in meeting rising costs and in building our treasury for the future.
Donations to the Shomrim Society Scholarship Fund, organized under Section 501 (c) (3), are tax deductible up to 50% of your adjusted gross income. Donations to the Scholarship Fund are always appreciated. Scholarships are awarded annually to children of Shomrim members entering college, based on a competitive exam.
Click here to make a donation.
---
Dear Shomrim member or friend,
The proper time for lighting the candles in the New York area go to click here.
The traditional way to light candles on Friday night is: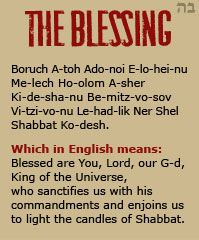 Light the candles.
Read the blessing from the paper (without looking at the candles).
Close your eyes and say a silent prayer for whatever is important to you.
Open your eyes, see the flame and know you have just added light to our world.
Wish everyone present, a good shabbos or a shabbat shalom
(a sabbath filled with peace).
Kiss your loved ones and remind them how much you love them.
Please save this for future weeks.
May the light of our collective candles brighten the world and warm our hearts.
May the one who watches over all, protect us and our loved ones and grant us peace, health and happiness.
NYPD Shomrim
Board of Directors
---
Welcome to the
New York City Police Department
Shomrim Society Website!
The NYPD Shomrim Society is a fraternal organization of Jewish members of the New York City Police Department.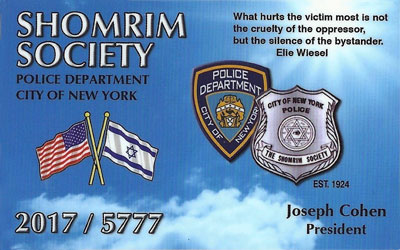 SHOMRIM PRAYER
for SOLDIERS and POLICE OFFICERS
of ISRAEL and the UNITED STATES
He who blessed our forefathers Abraham, Isaac and Jacob – may He bless the soldiers of the Israel Defense Force, who stand guard over our land and the holy cities that are Yours from the border of Lebanon to the desert of Egypt, and from the Great Sea to the approach of the Arovah, on the land, in the air and on the sea. May He bless and protect the soldiers of the United States of America and our Allies, who risk their lives to protect and defend not only our borders but our right to Freedom and Democracy, here on our land and wherever we are threatened. May He bless and protect the Police Officers of New York City and all Law Enforcement Officers and Agents of this great Nation, who at the risk of their own lives protect the citizens of our city and this country from those who wish us harm. May He preserve and rescue all these courageous 'Shomrim' from every trouble, distress, plague and illness, and may He send blessing and success in their every endeavor. May He grant them salvation and crown them with victory. And may there be fulfilled for them the verse:
"For it is Hashem, your God, who goes with you to battle your enemies for you, to save you".
Now let us respond: Amen