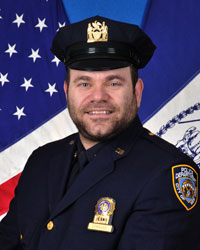 Spencer Strauss
December 2019
Welcome to December brothers and sisters! One of my favorite times of year, when we all get together and celebrate the miracle of Chanukah. A miracle that represents our Judaism bringing light unto the nations even in the darkest of times.
I want to thank our members and their guests for coming out to our annual cigar night which was very successfully ran by Bro.
Ben Gelber. Thank you to Bros. Novikov and Zucker for bringing along their wonderful wives to assist in selling of raffle tickets.
I look forward to seeing you all at two of our upcoming events. On December 23rd, there will be the menorah lighting at 1 Police Plaza followed by our general membership meeting, and on December 29th, Bro. Novikov will be running a family Chanukah party at Kingsborough College. There will be cotton candy, fresh popcorn, carnival games, and a magic show! Please e-mail Bro. Novikov at <a href=mailto:Jacob.Novikov@gmail.com>Jacob.Novikov@gmail.com</a> or call 617 794-9988 if you have any questions or wish to reserve a spot with him.
As always be safe out there, and let the lights of the menorah shine brighter this year than ever before.
Fraternally,
Spencer Strauss