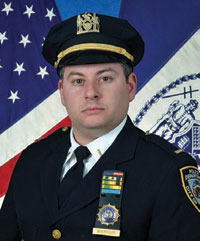 Gary Marcus
October 2021
I would like to start by wishing everyone a very happy New Year, I hope the High Holiday season was both restful and meaningful. Even though our Sukkah barbecue was rained out, the evening was a huge success. I want to thank Brother Steve Litwin and the Board for their help ensuring all accommodations were made for our membership and the East Midwood Jewish Center for their warm hospitality.
All who were present enjoyed an evening of fellowship and delicious food as we welcomed several new members into our fraternity.
There are several Shomrim events on the horizon including our October General Membership Meeting, the Louis Weiser Memorial Service & Breakfast, as well as the Chanukah Menorah lighting at One Police Plaza; I hope you can join us for all of them.
Fraternally,
Bro. Gary Marcus