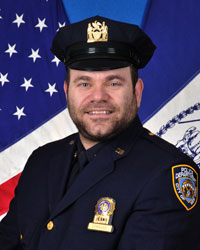 Spencer Strauss
September 2019
I hope everyone had a safe and enjoyable summer. In this month's newsletter I wanted to touch base on a few points.
The Jewish month of Elul is upon us. We begin to prepare ourselves for the upcoming High Holidays while reflecting on the past year. We rededicate ourselves to becoming better husbands, wives, friends, and cops. I pray that Hashem continue to bless each and every one of us to be inscribed in the book of life, and that we continue to grow in wisdom and in health.
In the same vein, I wanted to address the topic of a very disturbing trend occurring this year in relation to MOS suicides.
I would like to reiterate to the membership that whether you are active or retired, there is always someone to turn to if things in your life aren't going smoothly. If you are contemplating suicide, I cannot stress enough the availability of resources, both on and off the job. The chaplain's unit, POPPA, and the Employee Assistance Unit are just to name a few. Aside from them, you can always contact myself directly, or any of my fellow board members. There is a reason why we print our phone numbers on the back of our membership cards. I will always have time to speak with one of my fellow brothers and sisters and will do all in my power to help you get the help you need.
We as cops, constantly deal with so much negativity. We need to stand together, shoulder to shoulder, and help each other through the dark times. September is a bittersweet month, especially in the NYPD. We are reminded of the sacrifices made on 9/11. During this month, let's make an extra effort to check in on our partners and friends.
This year will hopefully bring us only good news and good tidings. May we all be inscribed for blessings and may we merit the speedily coming of Moshiach!
Spencer Strauss