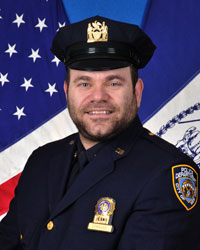 Spencer Strauss
February 2019
Peace and blessings to all! I am proud and honored to represent the NYPD Shomrim Society in my capacity as President. I truly could not have made it here if not for the support and advice from past Presidents.
I wanted to take a moment to personally name Bro. Samuel Miller and Bro. Larry Wein for their exceptional guidance. I would also like to make a special thank you to the out going president Bro. Joseph Cohen. His leadership and dedication to the Shomrim Society has allowed us to enter a new era with the Society, and I look forward to continuing the momentum forward.
At this months general membership meeting, we were honored to have Judge Bruce Balter and Councilman Chaim Deutsch swear in the new board of officers. Councilman Deutsch addressed the membership about two new bills that he sponsored; #1118 that helps Veterans get the crucial services they need and #1261 concerning outreach and education in schools about the impact of bias and baseless hatred. Councilman Deutsch concluded with details about a street renaming for a line of duty death Shomrim Member Patrolman Leon Fox. The renaming ceremony will be at the intersection of Surf Avenue and West 12th in Coney Island, Brooklyn. This is a long overdue ceremony and I hope our members are able to attend. The date will be announced as soon as we receive it.
I would like to take a moment and just remind our membership that we are looking for stories and pictures of the amazing work all of you do on a daily basis. We are looking to post to social media and get you recognized for all your efforts. Please contact Bro. Jacob Novikov in regards, and be sure to follow us on Twitter (@NYPDShomrimSoci) and Instagram (NYPD_Shomrim_Society)!
I hope to see everyone at the annual Installation Dinner on March 28th, 2019 at Da Mikele Illagio in Queens. It's going to be a wonderful evening of good food and even better company! Please contact Marty Turetzky or Murray Ellman in regards.
Lastly, I look forward to this year and am humbled by the opportunity to lead such a great organization such as ours.