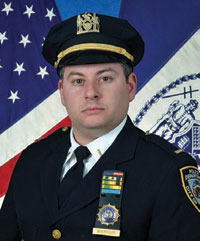 Gary Marcus
September 2021
As summer winds to a close, I would like to take an opportunity to acknowledge the discipline and hard work performed by our active membership over this past season. The summer has brought its own unique challenges, with Covid still looming and various situations in the city constantly demanding your attention. Through long, hot days and odd hours you rose to the occasion – as you always do – and we are proud to have you among our membership.
Your Shomrim Society board has been busy preparing a full schedule for the coming year. We look forward to welcoming everyone back at our September General Membership meeting scheduled to take place on September 23rd in the Sukkah at the East Midwood Jewish Center.
However, before we can talk about hanging out in the Sukkah, I want to wish you and your family a very happy, healthy, and sweet new year on behalf of the entire Shomrim Society Board. May we continue from strength to strength into the Fall High Holiday season.
Fraternally,
Bro. Gary Marcus