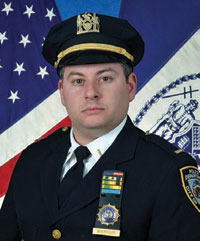 Gary Marcus
April 2021
Temperatures are rising, flowers are beginning to blossom, Spring is finally here! I hope everyone had a joyous and meaningful Passover. I need to thank Brothers Phil Weisbord, Paul Daniel and Lee Stanton for their work on this year's Passover distribution and of course all those who came out and volunteered. Over 100 needy families across the five boroughs received Kosher food as a result of this worthy undertaking, what a tremendous accomplishment.
I am also saddened to announce that our own 1st Vice President Jacob Novikov has resigned his position on the board and with the NYPD and is moving to Houston, Texas where he has accepted a position with the Houston Police Department.
Jacob, you have been a great friend and powerful force in our organization. You will be sorely missed but I know you will have great success in all your future endeavors. On behalf of the entire Shomrim Society I want to wish you and your family nothing but the best in this new chapter of your lives and thank you for your service to our fraternity, keep in touch.
As vaccinations become more prevalent, we are planning our return to in person meetings and events. Please keep an eye on your email for a survey that will soon be released to help us gauge the comfort level of our membership as we work our way back to normal.
Fraternally,
Bro. Gary Marcus