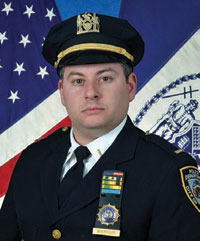 Gary Marcus
January 2021
Happy New Year! I want to start by thanking everyone who participated in our last election. I am truly honored and humbled to have the privilege of leading our great society for another year. Also, I would like to congratulate my fellow board members, those whose terms have been renewed and those stepping into new roles. I could not have asked to be part of a better team and I am proud to serve alongside you.
This past month I was thrilled to stand with Rabbi Kass and Police Commissioner Shea when we lit the Menorah in the lobby of One Police Plaza (see below). While it was terrible that we could not be together, we should all be encouraged that this live streamed event was viewed by thousands of people across the country and around the world.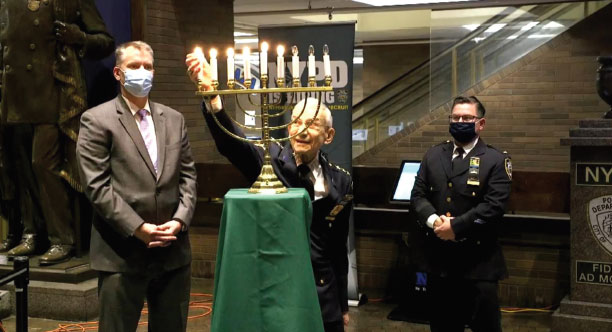 Also, I was honored to be joined by members of our board as we presented Deputy Chief Charles Scholl with a "Lifetime Achievement" award on behalf of our organization (photo below). Chief Scholl has been a tremendous friend to the Jewish Communities around the city and to the members of the Shomrim Society. Chief, we wish you well in your retirement!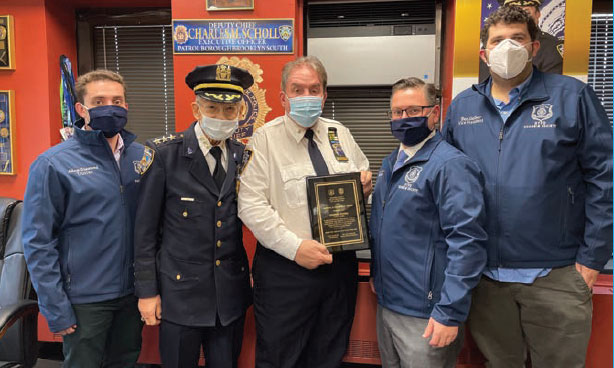 2020 is in the books and I look forward to the prospect of getting back to business as usual; I hope to see everyone again soon. On behalf of your entire board, I would like to wish everyone a happy, healthy, and successful new year.
Fraternally,
Bro. Gary Marcus