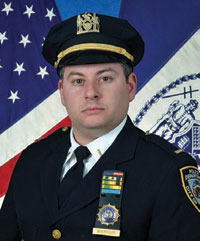 Gary Marcus
November 2021
I would like to start by thanking Brothers Phil Weisbord and Joey Cohen for their help coordinating this year's memorial service. It was truly a meaningful event and the additional logistics involved with an outdoor collation was no small feat. You both did a tremendous service to our organization, thank you.
We just set the clocks back which means Chanukah is around the corner. The annual Menorah lighting at One Police Plaza is scheduled for November 29th at 1700 hours. Returning this year, we'll be serving traditional Chanukah foods following the ceremony. Additionally, at our general membership meeting later that evening we'll be joined by special guests Deputy Commissioner Tanya Meisenholder and Director Michael Melocowsky of the Office of Equity and Inclusion who will answer any questions you might have regarding religious accommodations in the NYPD. I hope you can join us.
On behalf of the entire executive board, I would like to wish you and your family a very happy Thanksgiving.
Fraternally,
Bro. Gary Marcus