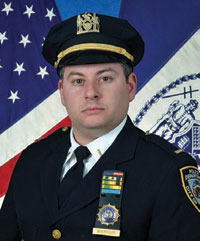 Gary Marcus
September 2020
It's been quite a busy summer season!
Although we may have been apart, many of our brothers and sisters have been working tirelessly to continue to keep our city safe. We want to wish a Yasher Koach to all our active duty members, who continue to sacrifice day in and day out in this very divisive climate. We also would like to wish a refuah shelemah to our brothers, Lieutenant Richard Mack, Police Officer Joseph DelSole and Police Officer and Marshall Eduard Weis – who all suffered their own injuries in the line of duty; get well soon!
As we reconvene for the new year, and the High Holidays approach, we consider all the rituals and Mitzvot that we observe over this season. We pray for forgiveness and a sweet and prosperous new year. We dip apples in honey and spend time with our families. The Midrash states, "just like bees produce and store honey for their wonders, so do we produce and store mitzvot for Hashem" It begs the parallel of our duty as officers, a selfless and noble mission to provide for others, to protect the whole, as selfless as the honey bee.
We pray and hope for sweet beginnings, luck and prosperity for all of our members and their families. May this year bring us all peace, tranquility, health and safety.
Fraternally,
Bro. Gary Marcus