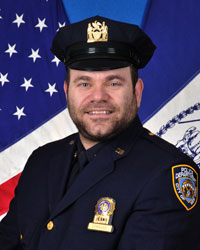 Spencer Strauss
June 2019
June is an exciting month for the society. We had the Celebrate Israel Parade on Yom Yerushalayim and the Old Timers Luncheon on the first Thursday in June. Now we are looking forward to the fathers day picnic (see front page) and Jewish heritage day at the Brooklyn Cyclones. There are lots of opportunities for us to get together and celebrate our Jewish Heritage. June meeting will feature some Chiefs. Come listen and socialize with the brass.
In the summer we tend to slow down any official events and gatherings, but know that myself and the board will be hard at work putting together next years line up of events. We hope to bring forward new ideas and revamp some old ones, to make our society thrive like it once did in the Department.
If you follow us on social media [which I would strongly encourage] you may have noticed a new logo for the society. We wanted to keep the older concept but modernize the logo. That has been my mission-move the society forward, while still giving homage to how things were done in the past. Bro. Josh Zucker has made tremendous efforts in procuring the logo as a patch and pin, and he can be contacted to place an order.
I hope to see everyone at as many of our future events as possible, and as always, please be safe and well.
Have an amazing summer,
Spencer Strauss