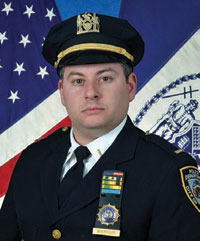 Gary Marcus
October 2020
I hope everyone had a happy and meaningful holiday season. 2020 continues to be a year of the abnormal and unexpected; I am disappointed to report that we will be cancelling our annual memorial service and breakfast due to newly enacted restrictions related to the pandemic. However, in the vein of the unexpected, as a result of the Police Commissioner's NYPD 175-year anniversary project, we became aware of a previously unknown line of duty death of a Jewish Member of the Service. Eleven year-old Tobias Gellis served as a Captain in the Junior Police Force, a precursor to the modern-day Explorer program. On July 10, 1916 Gellis was tasked by the commanding officer of the Lower East Side's 15th Precinct to address a group of young people regarding new Department of Health Guidelines. Due to the summer heat, Captain Gellis chose to address the group on the roof of 209 Fourth Street. While the exact details of what transpired on that roof remain largely unknown, what is known is that Captain Gellis fell seven stories to his death.
This past July the Shomrim society was asked by the Police Commissioner to participate in a rededication ceremony at the grave of Captain Gellis acknowledging his line of duty sacrifice. I was honored to participate in that ceremony together with Rabbi Kass and several of our brothers. A special thank you is also due to Inspector Terrence Hurson of the Police Commissioner's Officer for finding this tragic event in the Department's archives, putting together a very heartfelt rededication ceremony and acknowledging the ultimate sacrifice made by this young man.
Had our memorial service been held this year as planned, our brother, Captain Tobias Gellis would have been added to the official honor roll of our society. His name would have been read alongside the members of our fraternity who have made the ultimate sacrifice. While this pandemic has caused us to pivot time and time again it will not stop us from doing what we do best, remembering. As members of law enforcement, the motto "never forget" is ingrained in us and will always honor that commitment.
Please take a moment to remember the sacrifice of eleven year-old Junior Police Captain Tobias Gellis and all our brothers who came before us who made the ultimate sacrifice.
Fraternally,
Bro. Gary Marcus