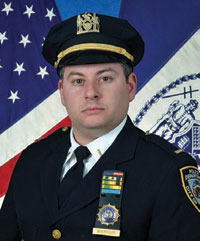 Gary Marcus
May 2020
Recently our organization hosted its first virtual general membership meeting. At its peak we had over fifty members in attendance across five States. The forum gave an opportunity for old friends to catch up and for new members to meet each other. It allowed our members to share their experiences and gave our membership in the field an opportunity to share the most up to date information available.
This channel of communication is new to us and I want to thank Rabbi Kass for participating and sharing his positive message and prayer. Rabbi, your calming presence undoubtedly makes these uncharted waters seem much more familiar. I encourage everyone to participate in our next virtual meeting on a date to be announced, as we continue to strengthen the bonds of our fraternity. I truly look forward to seeing you.
As you know, the Shomrim Society has been directly impacted by this pandemic. Two members of our board were taken from us too soon and their loss will forever impact our society. And yet, as we mourn, we continue to do what we do best, lift each other up. I have received countless reports from our membership of positive outreach. Reports of our retirees in private business making donations to their local police departments, reports of our active members taking our retirees to doctor appointments, bringing them groceries, spending time teaching them the technology needed so they can participate in our virtual meetings and countless reports of our members checking in with each other just to make sure they're OK. I could not be prouder of who we are. Together we will get through this.
Fraternally,
Bro. Gary Marcus