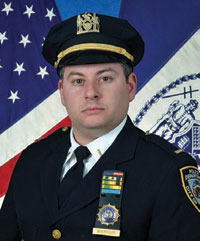 Gary Marcus
March 2020
The New Year is in full swing and there are many Shomrim events on the horizon. Our next general membership meeting will take place on March 16th, followed by our Installation Dinner Dance on April 2nd. At this year's Dinner, aside from installing our board of officers, we will also be honoring Chief of Department Terrence Monahan and Deputy Chief Charles Scholl; two individuals who have distinguished themselves as true friends of our society. On April 3rd we will be assembling Kosher for Passover care packages and on April 5th we will meet to distribute those packages to Jewish families in need.
No matter your speed, there is a Shomrim event for you. I know the schedule of a member of the New York City Police Department can be erratic and filled with uncertainty – I encourage you to set aside a small portion of your valuable time to participate and get to know the Brothers and Sisters of this great society. The details for all our upcoming events can be found within this newsletter. I look forward to seeing you.
I would also like to take this opportunity to congratulate Honorary Member Bro. Joel Cohen on his appointment as our General Counsel and Chairman of our legal committee and Bro. Lee Stanton who I have appointed Social and Digital Media Strategist.
Thank you both for your service to our society.
Stay safe.
Fraternally,
Bro. Gary Marcus